Widget not in any sidebars

NAVANTIA INNOVATION AWARD FOR THE END OF MASTER WORK, 2018/2019 COURSE
The Cosme Álvarez de los Ríos Chair announces an award for master's degree projects from the branch of engineering knowledge in the naval and industrial fields of the University of A Coruña.
The master's degree projects (TFM) of the 2018/2019 class of graduates in university master's degrees in the branch of naval and industrial engineering of the University of A Coruña (UDC) who have obtained an Outstanding or Honors License and who do not have a confidentiality clause.
The deadline for receiving the documentation to participate begins on October 1, 2019 and ends on October 31, 2019.
For more information consult the bases of the prize.
NAVANTIA INNOVATION AWARD RESOLUTION FOR THE END OF MASTER WORK, 2018/2019 COURSE
Resolution of the selection body of the "Navantia innovation award" call for final projects for the 2018/2019 master's year convened by the University of Coruña and published in its electronic headquarters and on the UDC website.
Photograph of the delivery of the Navantia Innovation Award for master's thesis to Mr. Javier Pernas Álvarez and delivery of the second prize to Mr. Carlo Alejandro Castro Boado: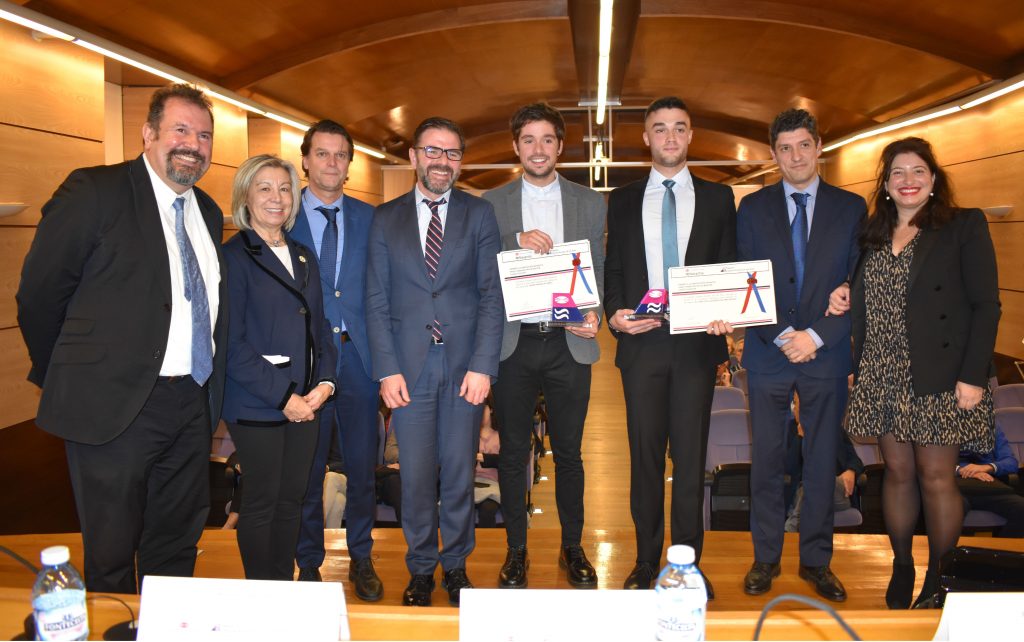 Photograph courtesy of the UDC.